When purchasing a streaming device people mainly want to know, how much is all this going to cost us and how feasible is this for us. I understand no one wants to throw hard earned money away. I don't either.
It's always good to know what you're getting into before you get into it. So I'm going to let you know what you get for your money on the services that Roku provides.
What Is Roku About?
Roku is a service base product. With a service like Roku, they provide a way for people to watch TV, Movies or listen to music from the Internet to their TV. It's kind of different than cable because you pay a one-time fee for the Roku device.
Roku has negotiated with services like Netflix, Hulu, and many other services to bring their services to Roku. So you as a consumer will be able to pick which services you want to add to your device from the Roku Channel Store.
Unlike cable or satellite services, they provide you with channels from a package you choose. With a streaming device, you may add and take out services that you like. Some of the apps are free while others may cost one time, monthly or yearly fee.
 Local Channels
Unfortunately, Roku doesn't provide local channels. I know a lot of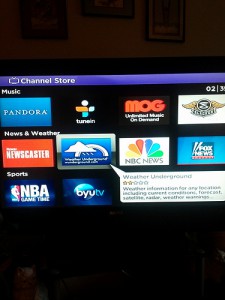 people would love to see that on their Roku Devices. We all know the legal reason why, Money, Money, Money. This doesn't rule out that one day our streaming devices won't have local channels, but right now it's just the way it is.
I remember when satellite TV didn't provide local channels. The had to go through a lot of legal stuff to get them to their customers. So only time will tell.
When I had my first satellite TV service I believe it was called Primetime Satellite. I had to write a letter to each local channel provide it on my TV. Only two networks did it, FOX, I believe it was CBS. NBC and ABC denied my request. Eventually as you know today, Local channels are available on satellite TV. So you never know what the future will hold.
If you have to have your local channels, here are some ideas you may want to consider.
Keep your cable or satellite service.
Downsize your cable or satellite service to fewer channels.
If you want to cut the cord, you can purchase an HD Receiver Box
You can just forget about local channels altogether.
It's entirely up to you what you want to do. The good news is, you gotta choice.
What Kind Of Free Apps Do I Get?
When you install your Roku device you can select free channels. I suggest you do that first. Once Installed you get your basic channels.
Disney
Roku Channel Store
Netflix
Amazon
Crackle
Setting
HuluPlus
Pandora
Angry Birds
Roku Newscaster
Facebook
DishWorld
I would suggest doing an update because new channels are always added.
Free Services
Roku provides some free channels you can watch without giving your financial information.
Facebook you're able to watch some of the clips that are loaded with your Facebook feed.
Crackle is similar to Hulu, you're able to watch older movies and TV shows with crackle without paying for this service
Pandora you can listen to your favorite songs you enjoy
Angry Birds is a game that we all like to play
Roku Newscaster gives you news from a variety of news outlets.
Disney is more of previews of what coming on. You can also watch some music videos and clips of your favorite Disney Star.
This is very basic and the most popular ones you can check out. I would suggest going to the Roku channel store and sifting through what you want to watch. On Roku site, it will let you know if it's free or a paying service. Most services are paying.
Paying Services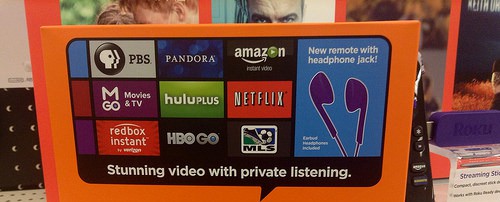 When You set up your Roku device you can either use your PayPal or a Credit Card account. I suggest you do this on your computer because it's a lot faster and easier.
You can add channels from the Roku store to your main channels you just downloaded. The apps on your main menu are mainly the popular ones that people tend use. Services like
Hulu Plus $7.99 a month or $95.88 a year
NetFlix $8.99 a month
Amazon Prime $99 dollars a year. If you shop through Amazon a lot, I suggest you look into this one, because you get free 2 day shipping plus you're able to have access to all their movies, TV shows, and music for free.
Dishworld $14.95 a month this is for international channels and you don't need the dish to get these channels. You can just pay monthly and get that channels you want through Roku.
You don't need all these paying services, I would do some research first and pick one paying service that you like. I use Netflix because sometimes I want some DVD's sent to my house so I can watch it at my convenience. This is your personal choice.
Roku Channel Store
In channel store, you're able to add channels free or paying services you'd like. You can go to their Roku's main site on your computer or through your Roku device and see what other programs you'd like to add.
Just so you know, the more paying channels you add, the higher rate your monthly bill would be. My suggestion is, look at their site that offers paying services first, then decided on which paying service you'd like. Free is Free, so take advantage of that too.
Conclusion
I understand there is a lot of research a person must do to find what's best for them. What I like about streaming devices such as Roku is that you are in more control of what you want to watch.
The main problem I have with a streaming device is that local channels are not provided. There are options around that such as an HD Receiver Box or downsizing your Cable or Satellite channels.
>If you're thinking of cutting the cord completely, I would suggest getting the streaming device first and see if you enjoy streaming from your TV.
If you have any questions or comments about how much are Roku Channels, let me know below.
photo credit: Roku Streaming Video via photopin (license)
photo credit: Channel Store 1 via photopin (license)