I'm sure we all have an older model TV lying around. You're probably wondering if Roku works on older TVs. If you've done your research you will be happy to find out that it does.
What is nice about this is that if you have an older TV with no cable setup, you can use a Roku device for this. The cables for your older TV model comes in the box, so you don't have to worry about finding the correct cable cords for your device.
How To Set It Up?
Here is a video that shows how to set up your Roku device.
See how easy it is. It's pretty simple. You really don't need much to do to get it started. Cable or satellite services seem much more complicated. That's why they have these technicians come to your house and spend a few hours setting things up.
Picture Quality
If you have an older model TV, you're probably not too fussy about picture quality. I know people want to see what they are watching, I do too.
For me, in general, I'm not too picky about the picture quality. As long as there's no snow or fuzz, I'm pretty happy. You do get pretty good reception with a Roku device using your older model TV.
What Do I Need?
You do need high-speed internet. You can check your internet speed by doing an internet speed test. The number you're looking for at least 1.2 Mbps or higher. Good internet speed will prevent a lot of buffering you get when you stream your shows or movies.
In my opinion the higher the better. I always have a need for speed when it comes to my devices. That's just me though.
You also need a wireless router.
With Roku for older model TV's they provide the cables, you need to watch your shows or movies.
If you're gonna buy a used one, you want to ask the seller if it comes with the cord. I understand when people purchase used products, sometimes it doesn't come with everything.
How Much Does It Cost?
It all depends on the device you get. I've seen the price run higher for each model and lower. You just gotta shop around.
Roku LT $45 dollars

Roku HD $55 dollars

Roku 2 XD $70 dollars

Roku 2 XS $70 dollars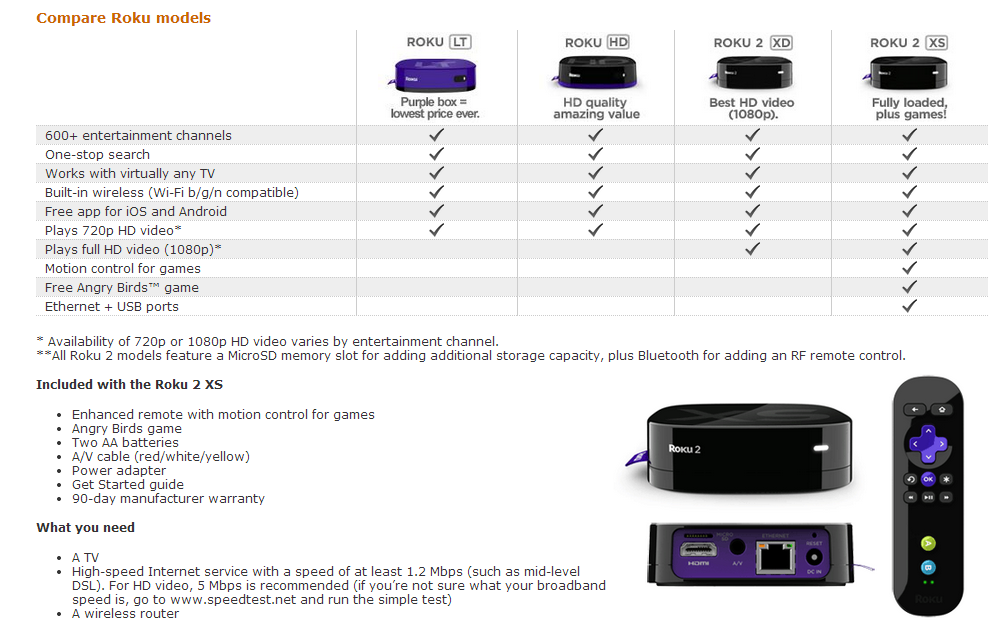 If you're into the fully loaded device then I recommend Roku 2 XS. If you want to save a little money then Roku HD works well. You can look at the chart and see which one works best for you.
Conclusion
It's nice to know that even with an older TV you still can have the benefits of streaming your favorite shows with a streaming device like Roku. Sometimes we are not ready to give up our older TVs because they work fine.
Why fill up the landfills will good working TVs. Making something old into something new can work with a Roku device.
If you have any questions or comments about using your older TVs with Roku, let me know below.